Whats the prize?
(1) Coleman Tent Nightstand with checkers (MSRP $22)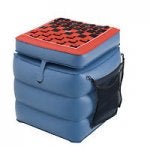 Information Here
Coleman® Airtight® System guaranteed not to leak
Advanced Double Lock™ Valve locks in air two ways
Extra-heavy-duty PVC
Checker/chess board (checkers included)
Mesh organizer pocket
Can be used as a cooler, storage bin, trash bin or seat
How do I win it?
Share your most memorable camping story (
here
). Whether it be a camping trip with mom and dad, or a camping trip with your own kids, we want to hear it!
You are not required to write a novel (unless you want to) but we would like for you share some details about your experience, why it was so wonderful, etc..
All camping stories posted will be entered into a drawing on March 23, 2008 where one member will be chosen and win the prize.
NOTE** Minimum of 10 participants required, or we will extend the deadline.
This contest is available to everyone, even if you have already won a previous contest.
Enjoy!